Stuck at home and missing the pampering joys of the salon? Or maybe you're super frugal like many of us and skip the spa on a normal basis. There are a number of amazing DIY Skincare recipes that you can make while you're self-quarantined in your home. Mix up several of them and then treat your immediate family to an at-home spa day.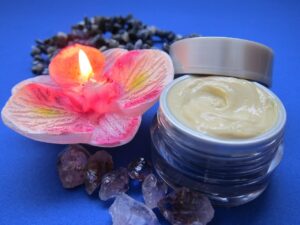 Moisturizing Foot Cream
Ingredients
1/2 cup almond oil
4 tablespoons grated beeswax
4 tablespoons coconut oil
1/2 cup glycerin
1/2 teaspoon evening primrose oil
1/4 teaspoon lavender essential oil
Directions
Add the almond oil, beeswax and coconut oil to a microwave-safe glass dish. Microwave in 60-second intervals, stirring between intervals until thoroughly melted and mixed.
Add in the glycerin slowly, mixing well.
Add in the primrose and lavender oil, mix well.
Store in an air-tight container and massage a small amount into your feet after a pedicure or shower.
Honey Tumeric Facial Mask
(Recipe makes enough for one mask, multiple for a spa party)
Ingredients
1 tablespoon honey
1 tablespoon baking soda
1 tablespoon lemon juice
1 teaspoon tumeric
This mask is moisturizing, brightening and refreshing.
Directions
Add all ingredients to a bowl and mix well.
Massage the paste into the skin on your face and neck.
Let sit for 10 minutes then rinse with warm water.
Dry Hair Hot Oil Treatment
Ingredients
1/2 cup olive oil
1/2 cup freshly steeped tea
Directions
Add the olive oil and tea to a blender and blend on high speed until oil breaks up into small droplets.
Work into dry hair, massaging into scalp.
Wrap your hair in a towel and sit for 20 minutes.
Shampoo and condition as usual.
For 175 more recipes, I highly recommend Organic Bodycare by Stephanie Tourles. It has every recipe you need to make your own body care products forever!